Cremation Jewelry Keepsakes
Cara Keepsakes offers urn necklaces to hold your loved one's ashes. 
Every cremation necklace is handcrafted in gold, silver or Murano glass and securely holds a small amount of cremated ashes. Every piece is personalized with a picture and text/fingerprint engraving.
Cherish your memories with a high-quality Cara Keepsake.
This necklace holds a small amount of your loved one's ashes. Personalize this beautiful keepsake with fingerprint or text engraving on the back.
Angel Wing Locket Urn
This gold heart-shaped locket holds cremated ashes. Personalize with photo and engraving.
Choose Your Style of Cremation Keepsake Jewelry.
Locket Urns open up and hold a photo on one side and engraving on the other. Pendant Urns are engraved on the back and a photo is inserted into your keepsake jewelry box (free with every purchase). All necklaces hold ashes and come in a variety of shapes and colors. Whether you choose a locket urn or a pendant urn, each quality piece is handcrafted in sterling silver, 14K gold or genuine Murano Glass to ensure a lasting memorial. 
Make It Personal.
Personalize your cremation jewelry with photos and engraving. Gold and silver locket urn necklaces hold a photo and engraving. Murano Glass heart urns are engraved right on the glass.
You can choose to engrave your loved one's fingerprint on all 14K gold and sterling silver locket urns. Simply request the print from your funeral home or crematorium and upload it when personalizing your locket.
You can view a live preview of your personalization details as you make your purchase to ensure everything is exactly how you'd like it.
If you have a special request for a custom personalization, please ask, we are just a click away...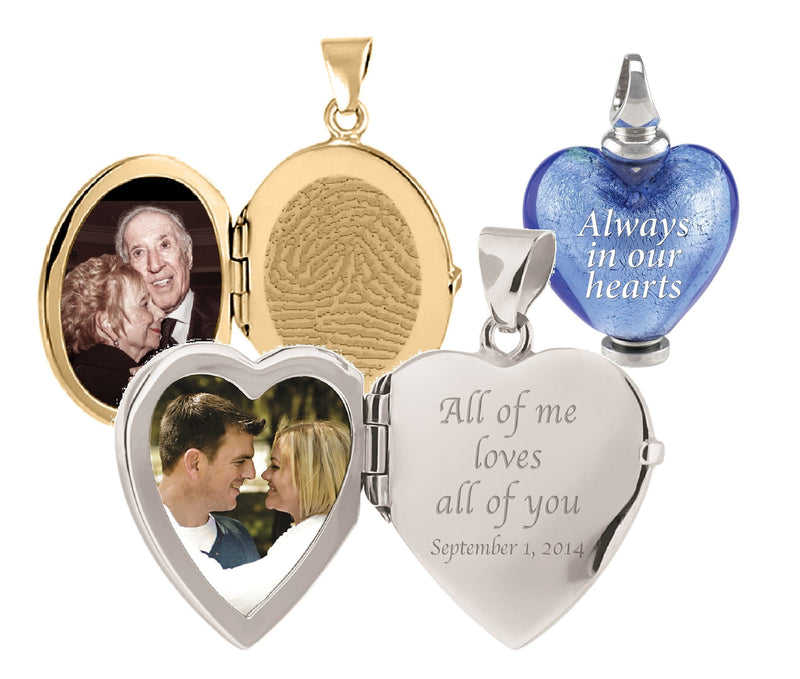 Cremation Safety Chamber.
Each piece of Cara Keepsake cremation jewelry is designed to hold a symbolic amount of ashes, a lock of hair, dried flowers or whatever you wish to keep close to your heart.  Click the link below for instructions on how to fill your urn jewelry.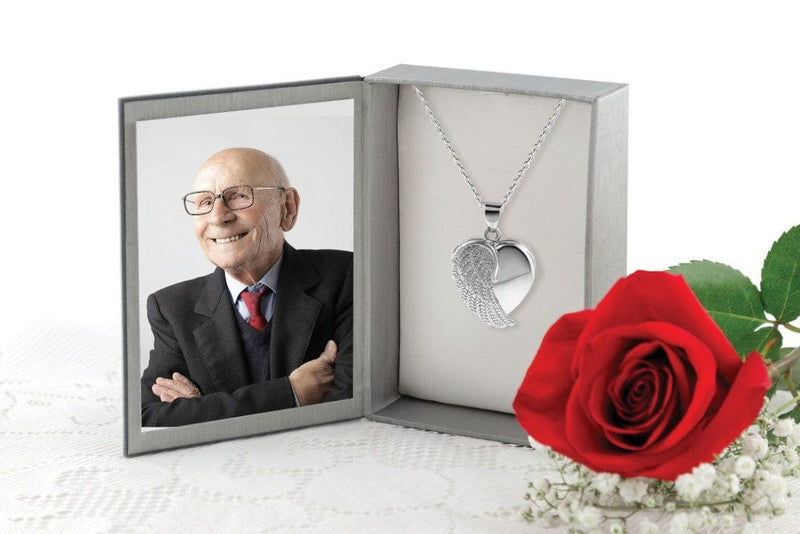 Your Keepsake Jewelry Box.
A $30.00 value FREE with any purchase of Cara Keepsakes cremation jewelry. This jewelry box includes a personalized photo of your loved one and provides a safe place to store your cremation jewelry when not being worn. Box measures 5 1/2" x 4" x 1 3/4".
Handcrafted With You In Mind...
Personalized cremation jewelry to honor your loved one's unique life. 
These mini keepsake urns hang suspended in a glass dome. They are also small enough to hold in the palm of your hand.
Choose to include a picture frame with your mini keepsake urn.